Are you struggling to find genuine, engaged visitors to connect with your brand? The answer may lie with the way that you are building links.
In this My Growth Gorilla review, we will be looking into what the team and company have to offer in terms of link building and other services.
Online growth is something which can be trial and error. It is also difficult to harness and manage on your own.
Therefore, it may be time to reach out to link building and optimisation experts at Growth Gorilla who can get your brand growing in the right direction. Keep reading, and we will fill you in.
Who is Growth Gorilla?
Growth Gorilla is a small, no-nonsense link building agency with a stack of SEO services and resources in its arsenal.
Its refreshing approach to SEO standards has helped to garner a reputation for being laid back, streamlined and always approachable.
Growth Gorilla's central ethos surrounds the idea that SEO could do without all the fluff and nonsense that some agencies like to throw at their clients.
They acknowledge that link building isn't an overnight process. They do, however, seek to work with genuinely engaged individuals who want to go places. Now is not the time for standing around!
Growth Gorilla positions itself to offer a genuine alternative to the older style of content creation and SEO strategy building which many businesses still fall back on. Their reasoning for breaking the mould revolves around saving clients time and money.
They have an entertaining website and branding, taking an '80s' aesthetic and serving up retro gifs and banners across their online portfolio.
This is a company that never takes itself too seriously, but when it comes to the important stuff, they drill down hard to drive personalised, organic results for their clients.
What Does Growth Gorilla Offer?
Growth Gorilla offers a backlinking service and content analysis system.
This means that, unlike with some SEO agencies and link building services, you won't have to focus on generating new content or guest posts unless you want to.
The Growth Gorilla team looks carefully at your existing website and content and considers ways to improve it. If there is a need for entirely fresh content for stronger links, they will make such a suggestion.

They will analyse your current linking situation and will build a firm strategy on the types of links and resources they need to look for. From here, they will take on the link prospecting for you, approaching niche sites and blogs who will be happy to link back to you and start building up your online brand.

Growth Gorilla then offers an extensive searching, scraping and cleaning service, where they will analyse the keywords and SERPs that drive engagement to your firm, and will also look carefully at what your competitors are doing.
Growth Gorilla is amazingly clear and upfront on everything they do, how they do it, and how it presents itself to you. Many people are likely to find this approach refreshing and appealing in a sea of similar agencies and resources.
Pricing
Pricing is, of course, always important. Growth Gorilla offers competitive rates through all its SEO and link building projects, and this means that you can always expect a bespoke approach when you consult with their experts.
It is easy enough to set up a plan of action with the team simply by filling out a few quick forms on their website.
This means that you can instantly get a better idea of what Growth Gorilla has to offer before having to pay a penny.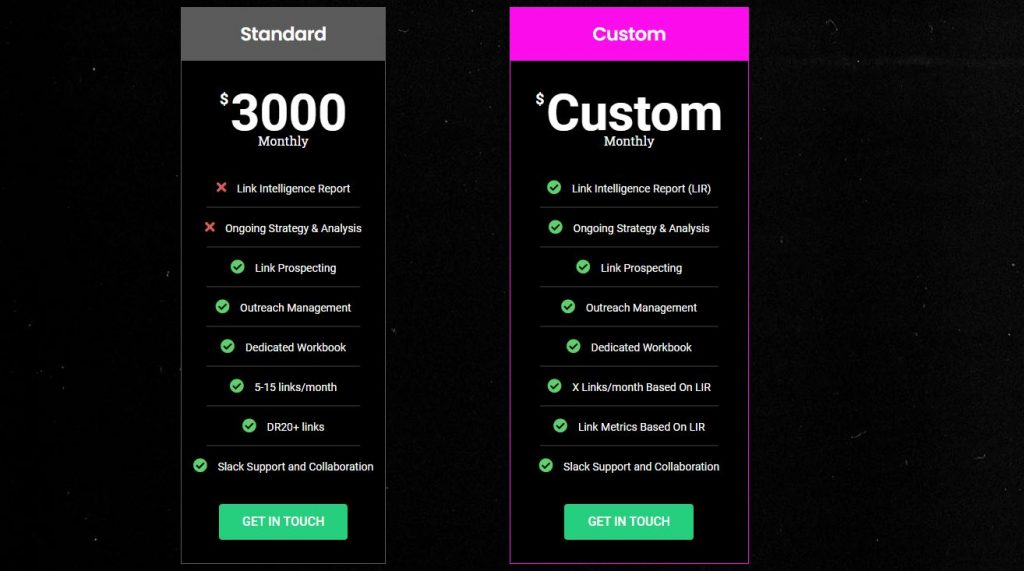 Rather than following a flat, basic pricing plan, Growth Gorilla encourages clients to go bespoke, setting up a project and budgeting system that is flexible as per your needs.
Therefore you will only ever have to pay for what you need. If you only need a few small tier links, to begin with, Growth Gorilla will line you up with a package that's practical, and which will make perfect sense to your bank balance, too.
Please make sure you contact the Growth Gorilla team directly to learn more about their pricing and how it all fits together.
Growth Gorilla Overview
Growth Gorilla is a link building and SEO consultancy which has been operating since 2018. They run under the expertise of Alan Silvestri, who uses a tight-knit team to research and build genuinely engaging results for their clients.
Their primary focus has centred around SaaS companies, and they are proud to lead with a 'no bullsh*t' strapline. This, of course, is likely to be appealing to many businesses in the modern age!
They work through a core team of around six experts.
Growth Gorilla's main aim is to offer as friendly and as streamlined service as possible, meaning that there is never any of the clumsy jargon that you might expect from some other SEO agencies or link building firms.
This, the brand feels, is what helps to set them apart from the pack.
Growth Gorilla Contact Details
You can contact the team at Growth Gorilla through the following details:
Address: OUTATIME Ltd t/a Growth Gorilla, Kemp House, 160 City Road, London, EC1V 2NX
Email: Via online form
What Others are Saying
"Growth Gorilla is a pretty unique entity, and that's a good thing. Alan and the team genuinely care about producing great results for us, and that's all we ever want."

"I first went into link building and SEO thinking it was going to be a stuffy, formal and confusing process. It's really not. Alan runs a fantastic firm full of friendly experts, and I can't wait to see what they do next."

"Sick of the same old SEO bumph? Growth Gorilla changes the game. Trust me on this."
Final Thoughts About Growth Gorilla
Growth Gorilla is a spirited, engaging brand which is striving to change the way that people see link building and SEO. Rather than keep things stuffy and complicated, they are actively helping to bring genuine, organic results to a wide array of clients.
Get in touch with Growth Gorilla now through their online consultation form and see how much of a difference their new links could make for your online authority.
All Link Building Agencies
Here is the full list of the link building companies we have reviewed:
The top-rated link building company reviews were updated in October 2020.